The Guardian's flagship summit to debate the changing nature of advertising in the connected age with a focus on real time marketing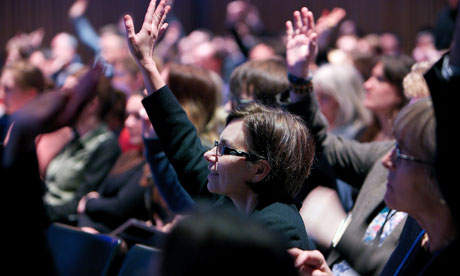 The Guardian's unparalleled reputation for national and international media and technology news is matched by a growing and diverse annual events programme, with the Changing Advertising Summit its centre: a one-day summit focusing on the changing dynamics of modern advertising which sits as part of the Changing Media event series.
Established in 2007, the summit was founded to act as a forum and meeting place for international thought-leaders in the media and technology industries to connect in meaningful ways and debate the implications of our digitally-transformed media industry.
As we enter our 7th year holding this event, we've set out the day to explore the commercial ramifications of digital technologies beyond 2013, in a world in where audience attention is increasingly dictated by mobile, social and on-demand media consumption and where the market place for media is driven by rich data sets and real-time exchanges.
The summit attracts an annual delegation of 300 senior attendees from the commercial media and advertising industry. These consist of senior managers, directors and C-suite leaders from the buy and sell sides of the media spectrum, as well as brand and agency strategy directors and ad tech enablers.
Above all, we hope the summit will act as a meeting place, a platform for new ideas and a place to be inspired by the innovation that is taking place in digital advertising. CAS 2013 is set to be an exciting opportunity to meet and listen to the hottest new voices and concepts, in an environment which is facilitated by a peer-reviewed conference structure and delivered by authoritative industry leaders.